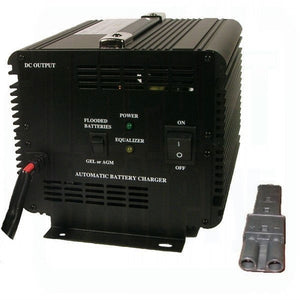 Schauer Yamaha Golf Cart Charger - 1996 and newer
Looking for a new charger that maintains your batteries after fully charging them at a good price.
This Japlar Schauer golf cart charger is specifically designed to work with Yamaha Carts. The hardwired six foot output cord comes standard with the 2 pin Yamaha connector. The JAC1548 features an auto-sensing universal input from 100-240VAC. It is perfect for wet cell, gel and AGM style deep cycle batteries. The JAC1548 is made with a durable aluminum case and has flanges for mounting.
: Free Shipping to the lower 48 states.
| | |
| --- | --- |
| Brand | Schauer |
| Model | JAC1548 |
| Chemistry | Lead Acid |
| Dimensions (LxWxH - metric) | 286 x 178 x 171 |
| Dimensions (LxWxH - inches) | 11.25 x 7.0 x 6.75 |
| Input Frequency (Hz) | 50/60 |
| Input Voltage (VAC) | 100-240 |
| Maximum Current (Ah, mAh) | 15 |
| Operating Temp. Range (oC) | 32-120 |
| Output Banks | 1 |
| Output Voltage - Charging (V) | 59.5 or 57.6 |
| Output Voltage - Float (V) | 53.6 |
| Ripple (%) | No |
| Voltage (VDC) | 48 |
| Warranty | 2 Year |
| Weight (lb) | 11 |