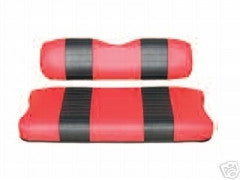 EZGO - Vinyl Seat Covers - Red w/ Black Pleats
Add some style to your cart with a new seat cover! These seat covers includes covers for seat back and bottom.
Available for EZGO TXT, Medalist, ST 350. 1994 and newer. Also Marathon models up to 1993.
These seat covers are made to order and take 5-10 business days to ship
These seat covers have a smooth vinyl finish/
Please note pictures are universal displayed and may not match your seat each cover is made to to the year make model specifics of your cart.
Note Rear seat covers are available for additional cost email us for info.
PLEASE NOTE... These are REPLACEMENT SEAT COVERS NOT SLIP COVERS. You will need to remove your existing covers, position the new seat covers and attach them using a staple gun (recommended)  Please do not purchase these items for use as slip covers. Please Specify cart/seat type and color combo below: